Chlorella
by Organic Burst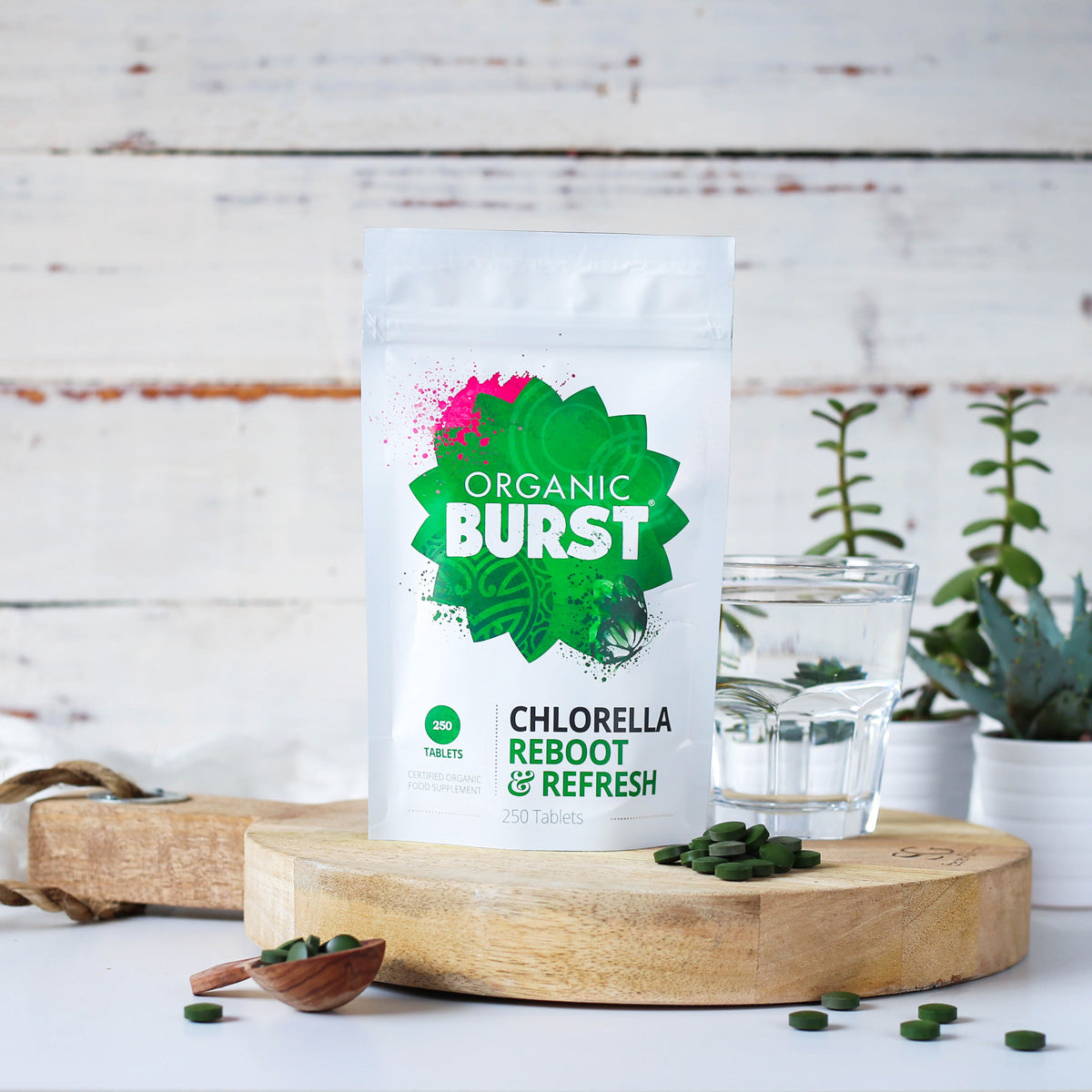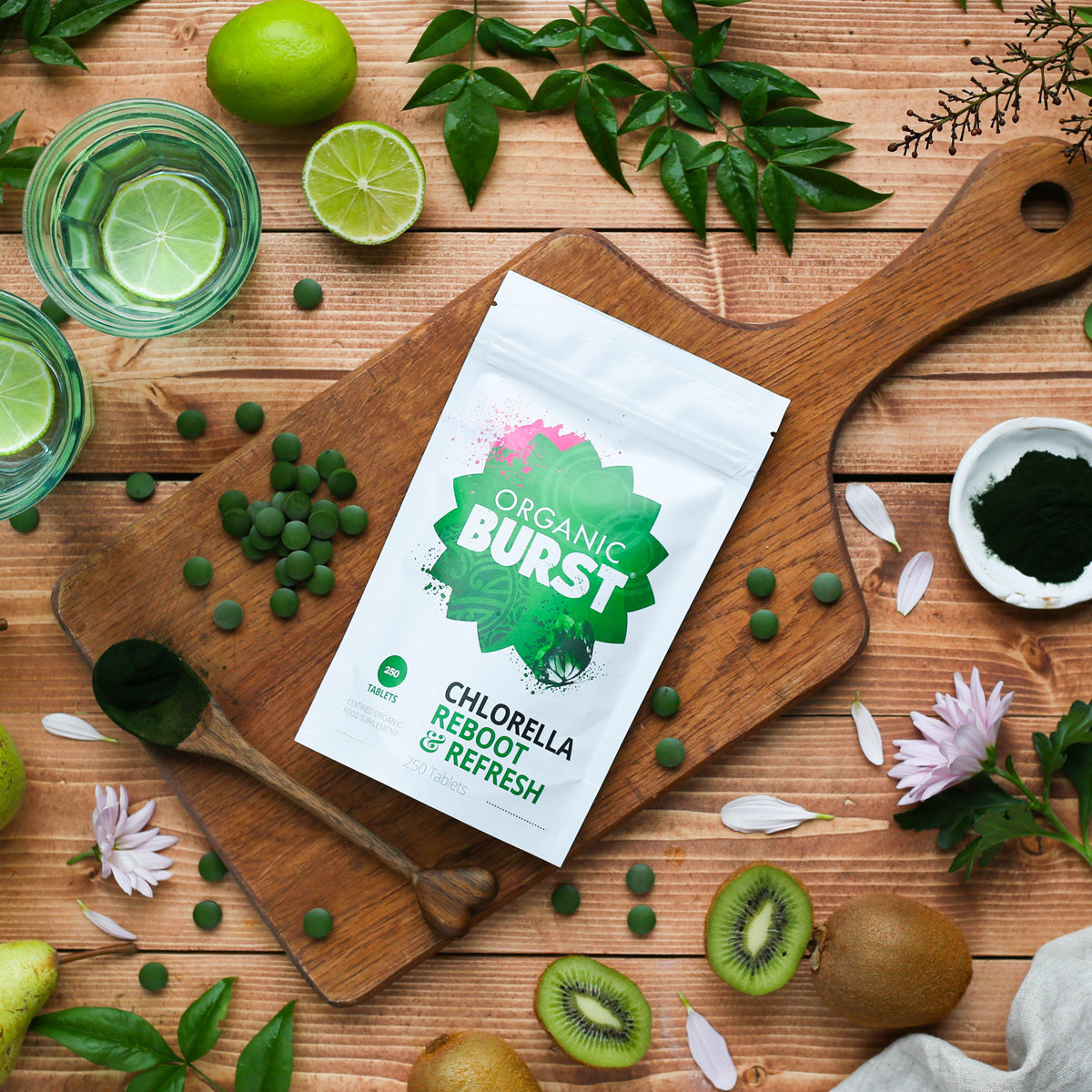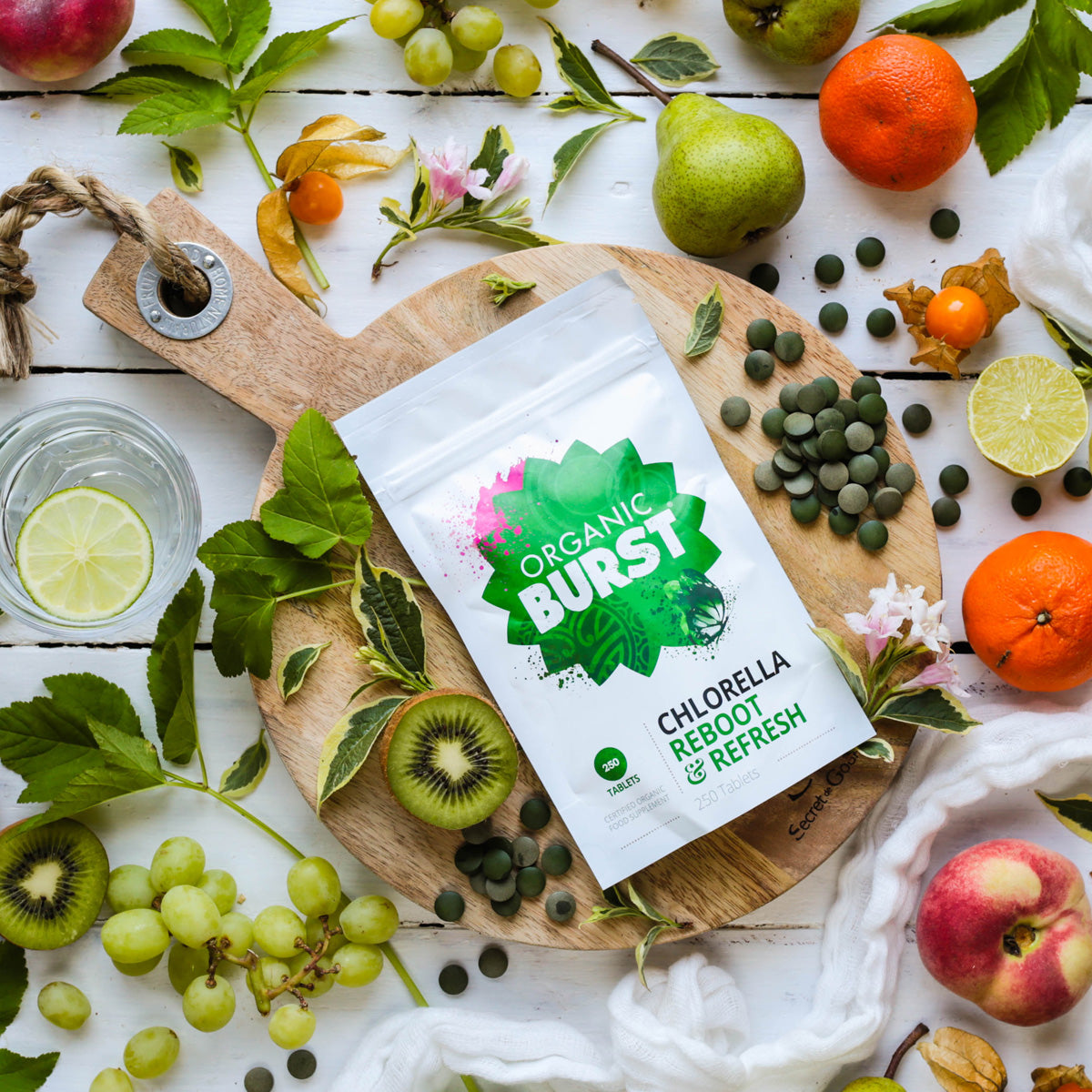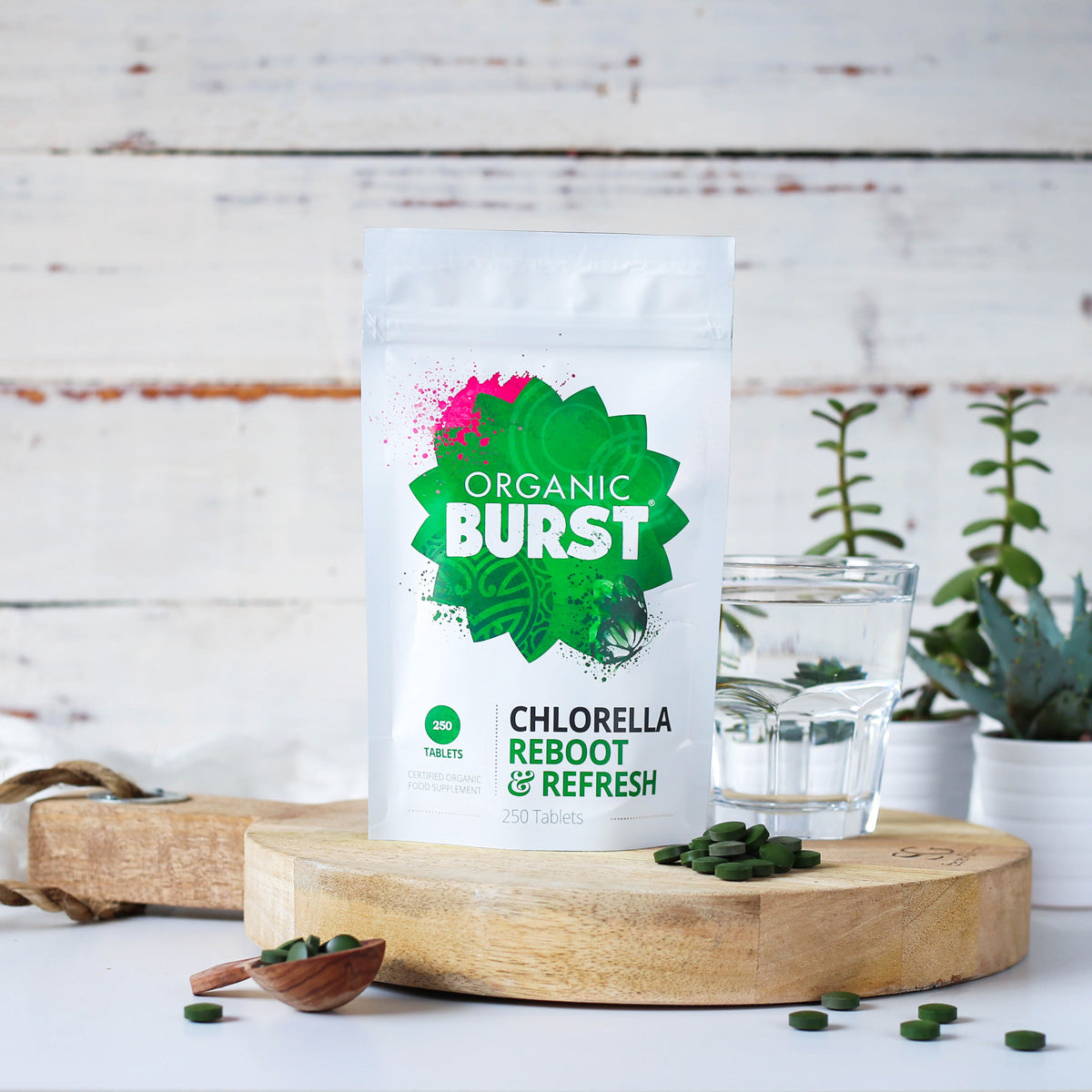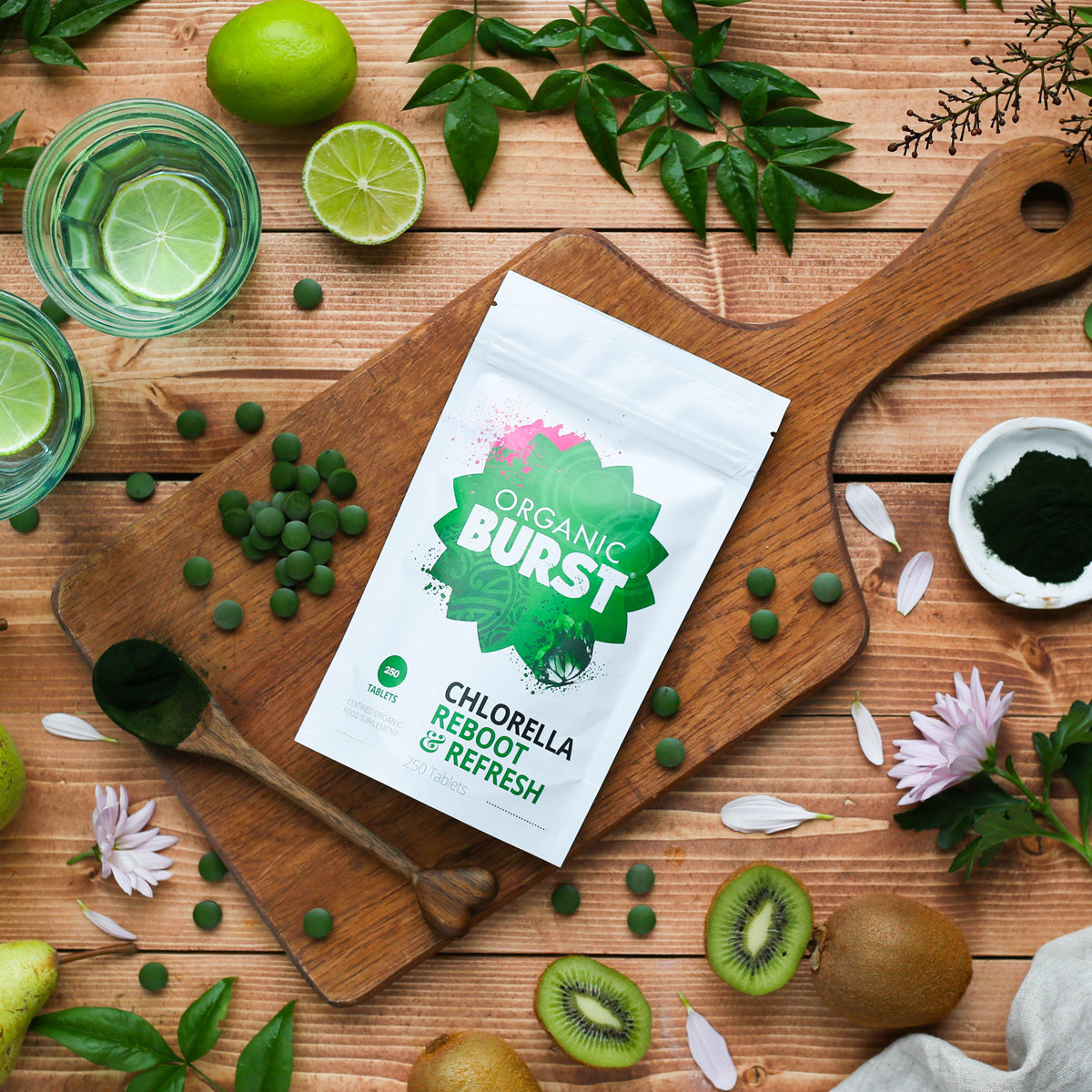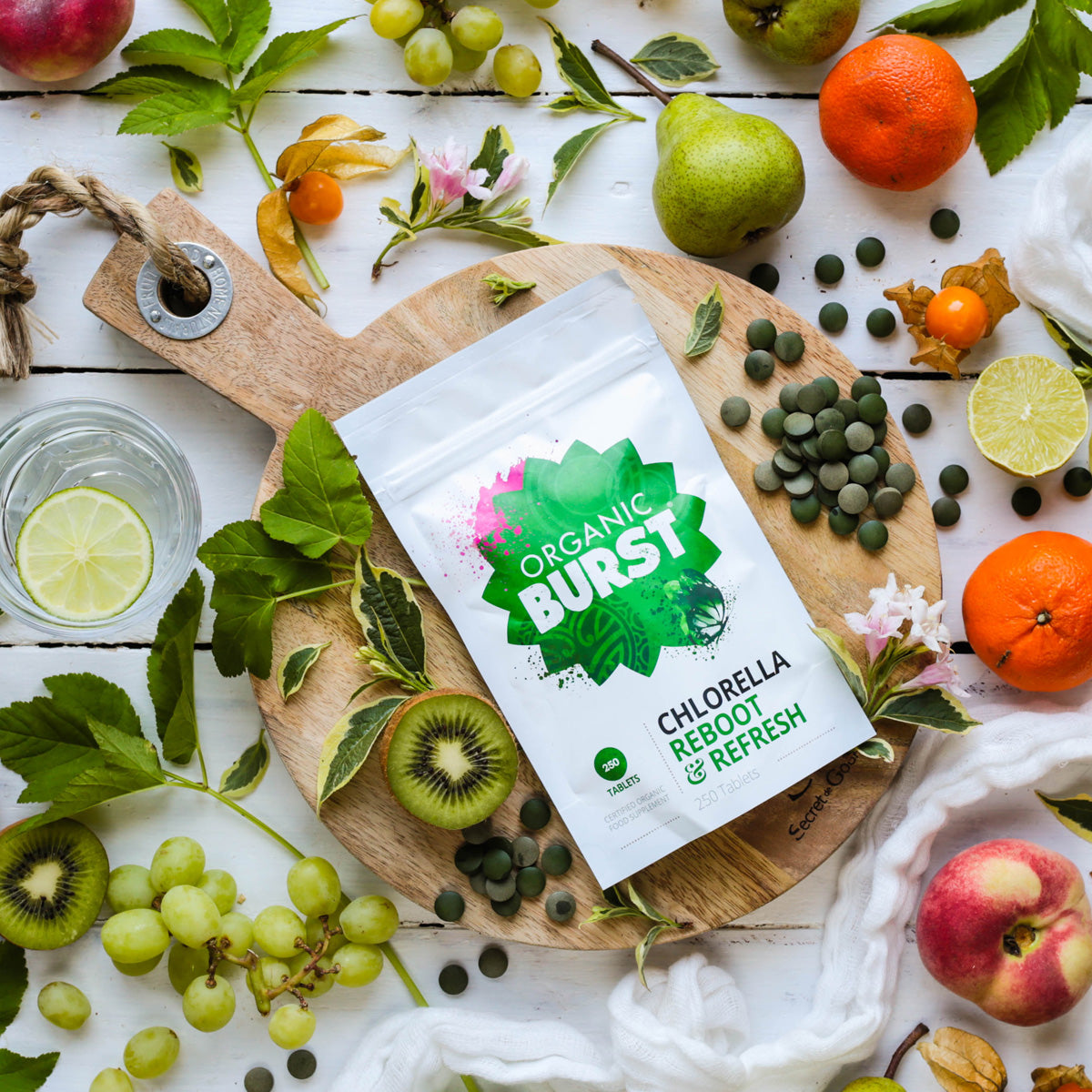 The ultimate detoxification helper for clear skin, fast-growing hair and improving digestive symptoms.
Chlorella is an ancient micro-algae bursting with precious nutrients and contains more chlorophyll than any other plant on Earth! Our Chlorella is super fresh and pure, free from nasties and 2x more digestible!
You'll
Love

How It Makes You Feel
Clear Toxins From Your Body
Chlorella is known for its powerful ability to detoxify various toxins (including some of the harshest chemicals!) from heavy metals to environmental toxins.⁠
A study published in Chemosphere (2005) found Chlorella increased the excretion of dioxins in the stool by 9 times! Chlorella has also been shown to remove between 40-90% of BPA, as well as clearing its hormone disrupting activity (Environmental Toxicology and Chemistry, 2005).⁠
Grow Longer, Stronger Hair Fast
Chlorella is a naturally bioavailable source of iron, zinc, biotin and true Vitamin B12 which are the most important micronutrients needed for strong, thick hair.
A build-up of toxins can result in eczema or psoriasis patches on the scalp that lead to thinning, weak hair. By supporting the removal of toxins from the system, Chlorella can help your scalp stay clear and healthy.
Stop Going Grey Early
One of the reasons for early grey hair is Vitamin B12 deficiency and a study published in the Archives of Dermatology Journal (1986) reported reversing grey hair back to normal colour by addressing Vitamin B12 deficiency.
According to multiple studies, Chlorella contains 'true' Vitamin B12 that is well absorbed by humans – unlike many other plant sources that merely contain an inactive 'analog' of B12.
Enhance Lashes & Brows Naturally
The easily absorbed iron, zinc, biotin and true Vitamin B12 in Chlorella is a totally natural and effective way to get strong thick lashes that don't come out or break easily.
Regularly taking our Chlorella can help you quickly grow your own natural lashes and brows without expensive salon treatments or problematic ingredients.⁠
Clear Skin, Free From Breakouts, Rashes & Redness
Chemicals in our food, cosmetics and toiletries tax our detoxification organs to the point where the body starts pushing out toxins through the skin - resulting in inflammatory skin issues, such as rashes, breakouts, rosacea and eczema.
Chlorella supports the liver and other detox organs, and aids the removal of toxins via the bowel, so the skin can remain clear!

Happy Flat Tummy & Easy Digestion
Bloating, gassiness, diarrhoea, constipation, IBS and other digestive issues are often caused by gut bacteria imbalances. Chlorella is known for its ability to balance the gut flora, promoting the growth of "good" gut bacteria. In turn this helps regularity and smooth bowel movements.
Hangover Saviour
Chlorella supports your liver in detoxifying alcohol quickly. This means, you'll feel alive the next day! A study by Dr. Fukui of Sapporo Medical University in Japan found 96% of participants avoided a hangover by consuming 4-6 grams of Chlorella before drinking alcohol.
A True Bioavailable Source of Vitamin B12
Deficiency in B12 can cause depression, fatigue and poor memory. It's easy to become low in this vital nutrient, but Chlorella can help.
A 2009 study in the Journal of Medicinal Food found that Chlorella increased serum levels of B12 in people with B12 deficiency - concluding that B12 in Chlorella was in its true bioavailable form.
Fight Cellulite
Chlorella can help you fight cellulite in 3 ways: 1) It has been found to increase elasticity in the skin – important to stop fat cells poking through upper layers of skin (Medicine and Biology Journal, 2013). 2) It improves the balance of gut bacteria to combat fluid retention caused by food intolerances. 3) Chlorella helps clear toxins that are stored in fat cells – these cause the cells to become enlarged and inflamed, making cellulite worse.
Stop Headaches
Headaches and migraines caused by a build-up of heavy metals or other industrial chemicals in our bodies can improve greatly by helping your body detoxify. In studies, Chlorella has been shown to help remove various environmental toxins, heavy metals and other harmful chemicals from the body.
Banish Bad Body Odor
Body odor can be caused by gut flora imbalances and the build-up of toxins. Sweating is a great way to help the body detoxify, but heavy toxic load makes sweat smellier!
Chlorella supports our detoxification organs, helping clear toxins, so the sweat won't smell so bad. Chlorella helps to boost healthy gut bacteria, which is linked to the bacteria found on our skin – the good bacteria crowd out the bad (stinky) ones!
Feel Calmer, Happier & Less Anxious
Research has linked anxiety and feeling overwhelmed to oxidative stress, which is an overload of free radicals caused by pollution, pesticides, alcohol, heavy metals, infections and more.
Chlorella is antioxidant-rich, proven to clear toxins from the body and has even been found to improve mood in those feeling overwhelmed and anxious (Complementary Therapies in Medicine, 2015)⁠.
Recover Faster After Birth
For post-natal hair loss, Chlorella provides the nutrients to grow your hair back much faster. For incisions/birth injuries, Chlorella boosts cell regeneration thanks to a unique compound called Chlorella Growth Factor. The iron and B Vitamins in Chlorella are amazing for an energy boost – perfect if you're not getting enough sleep!
"

Organic Burst Chlorella is the best supplement ever! It is seriously addictive as you can feel the magic happen only a few days after you start using it!
It is highly detoxifying by removing all the bad stuff from your liver and kidneys, helps your tummy stay flat, and makes your skin amazingly glowing! My skin looks so blemish free and clean now that I don't need makeup!"
Sarah, London UK
Why Our Chlorella
Really Works
Grown In Pure Mineral-rich Spring Water - More Powerful Chlorella
One of the reasons why so many Bursters feel amazing when taking our Chlorella is the crystal clear mineral-rich water used for its cultivation (as opposed to sea or surface water as is common). Its origin is in the Tawu mountains in serene Southern Taiwan, surrounded by rainforests and protected National Parks.
Direct Sunshine All-Year Round - For Amazing Effects
In order to be bursting with nutrients that it can nourish you with - our Chlorella is exposed to sunshine all year round and grown in pure rainforest air. Think of how amazing you feel when the sun is out!
2x More Nutrients Without Trade-Offs
With our Chlorella you get more effects because it's 2x more digestible! Chlorella's nutrients are wrapped in a tough cell wall - hard for humans to digest. Our Chlorella benefits from a cracked cell wall that is achieved by our farm's unique patented process - using low pressure applied for 3 seconds.
This is different to some other Chlorella products that use small glass balls to mechanically grind the cells, leading to glass residue potentially staying in Chlorella, as well as the nutrients oxidising (think "rusting"). This cannot happen during our cell wall cracking process as it's very gentle so you get more effects without any trade-offs.
Our Tablets Have No Fillers Or Binders - Quick Absorption and Purity
Yes, tablets can be 100% pure if they're our Chlorella tablets! We use a small but mighty machine that presses our Chlorella powder together into perfect pure tablets. Without the usual binders or fillers that you find in many Chlorella products - our Chlorella tablets are very quick to digest, leading to quicker effects (and only pure goodness for your body!).
Always The Freshest Harvest
Every time you get Organic Burst Chlorella on our website you'll be nourishing yourself only with a freshly harvested and milled Chlorella, bursting with bioavailable nutrients. Arriving directly from our lovely organic farm, it always comes in limited batches and doesn't stay in stock for too long, that's why so many of Bursters know to stock up as soon as it's back.
Organic Plant-Based Feed For a Powerful Chlorella
To ensure our Chlorella is exceptionally pure and effective we pay attention to every detail that goes into creating it. Our farm uses only organic plant-based fertilisers that they make themselves - no chemicals, no animal by-products.
A Superior Taste
Fresh & Green - Not Fishy
If you've tried other Chlorella or algae products before - you're in for a surprise when you taste Organic Burst! A good reason why so many Bursters continuously prefer our Chlorella is its taste - green like a good veggie juice, but without any fishy, bitter or nasty taste to it.
That is due to the purity and amazing detail of its cultivation, as well as the unique location of the farm. Many Bursters have it simply with water and lemon juice, but there are lots of other fun and yummy ways to take it (scroll down for some recipes).
Exceptional Purity
Free From Radiation, Heavy Metals & Algal Toxins
Tested Daily For Purity
Despite the fact that the air around the farm, the water and the feed used for cultivating our Chlorella are so pure - for extra quality reassurance our farm tests it throughout the day.
Organic Burst Chlorella is grown in fresh and pure mineral water as opposed to sea water or surface water. It is tested for purity at every stage of production and is free from heavy metals, microcystins, BMAA and other toxins. It is 2,550km away from Japan and is totally free from radiation too (and regularly tested for your peace of mind)!
We've searched the whole world for the cleanest and most powerful Chlorella and we found it! We work directly with an amazing small organic Chlorella farm in green Southern Taiwan, surrounded by beautiful dense rainforests.
Our chlorella is grown outdoors in bright sunshine (even in winter!), pure air and crystal clear mineral water. We love our farm, the majestic Tawu mountains nearby and the kind, sincere and humble people that work there.
Grown In Pure Rainforest Air
Free From Any Toxins, Cheap Fillers & Heavy Metals
Chlorella absorbs all the toxins from its surroundings, which is why it's crucial that your Chlorella is grown in controlled and super pure environments. An analysis of 17 Chlorella products in U.S. retail stores by Natural News revealed that many of them had high levels of heavy metals as well as containing cheap harmful fillers!
Sadly there are no regulations that require companies to test Chlorella for heavy metals, radiation and toxins! So by spending your hard-earned cash and using cheap Chlorella products you would actually be intoxicating yourself and not detoxifying!
In our Chlorella you'll find no hidden nasties, binders, artificial chemicals or fillers! Just 100% pure Chlorella. That's why everyone... children, pregnant mums-to-be, breast-feeding mums and the elderly can benefit from this Burst. It's simply a pure, natural and organic whole food.
How To Take?
Pure
Take 1 serving (4 tablets or 1 teaspoon powder) simply with a glass of water. Try keeping the pouch always close by to remind you to take your Chlorella daily!
Super Charge
Super charge your smoothie, juice or even pesto or salad dressing with precious and powerful nutrients! Mix in 1 serving (1 teaspoon) of Chlorella Powder.
...Or Get Creative!
We have loads of delicious free Chlorella recipes for you to get adventurous with! The kitchen will never be the same again!
...for more yummy Chlorella recipes check out Choc & Juice, our online world of wellbeing.
When To Take?
Easy
The most important thing is to take your Chlorella daily - don't worry whether it's in the morning, afternoon or evening. Just take 1 serving with any meal.
Pro
Feeling like a superfood pro? Then let's start some optimization!
BEDTIME DETOX: Take 1 serving before bed to give your body a detox boost overnight!
FLYING: Take 1 serving before your flight and 1 serving after to clear toxins and avoid flight-bloating.
PARTYING: Take 1 serving before going out and 1 serving when you're back in to help cleanse alcohol and other toxins from the liver and kidneys.