Cinnamon
by Organic Burst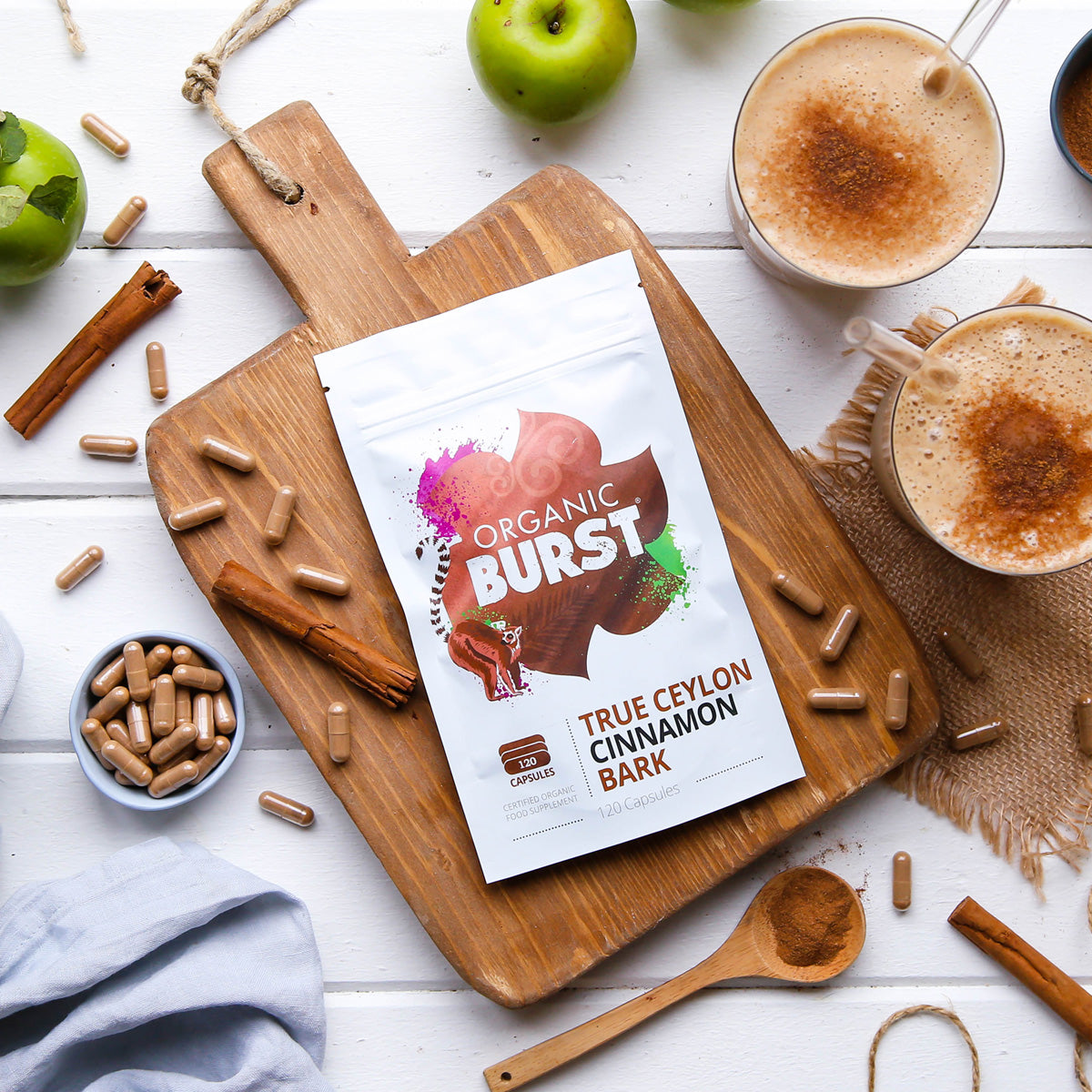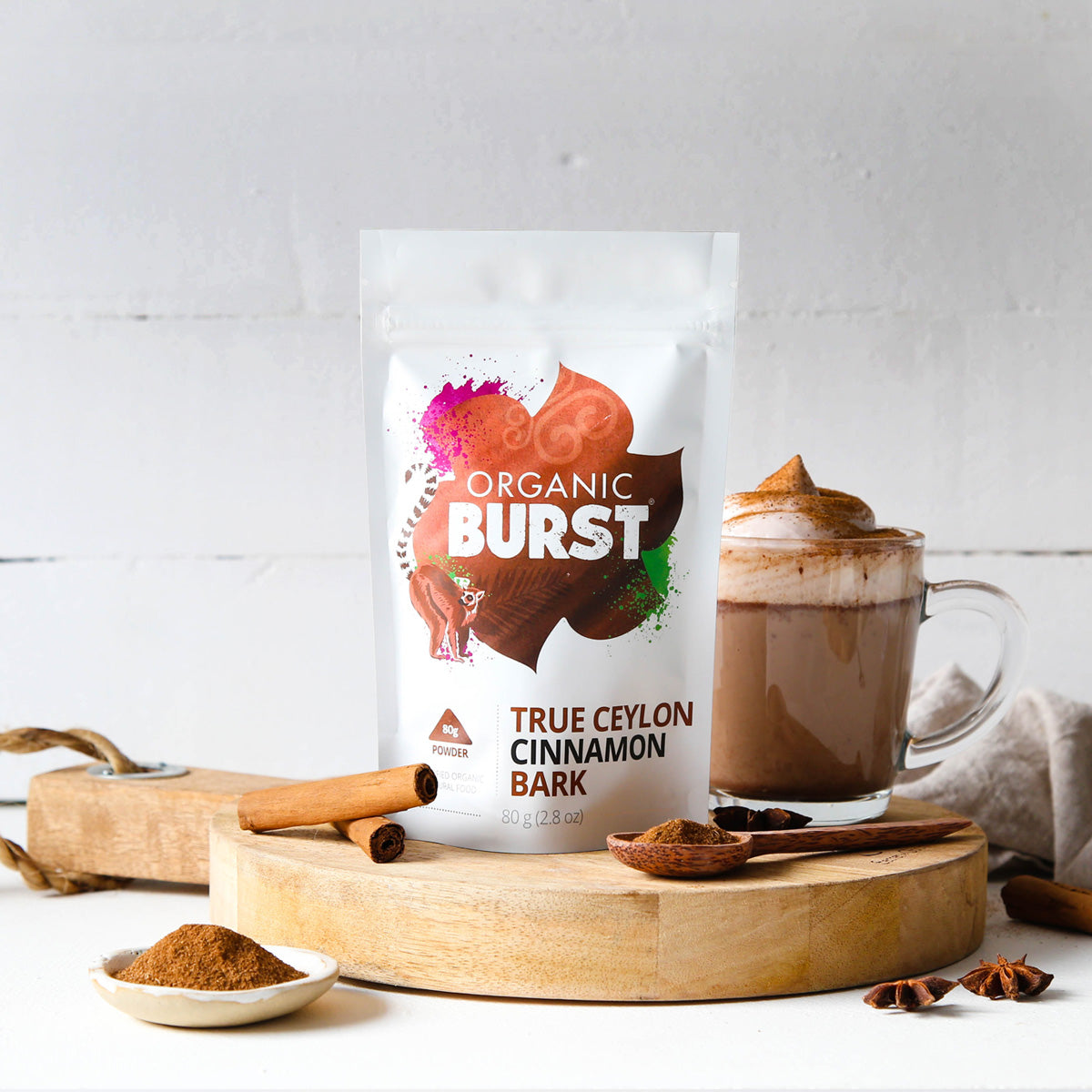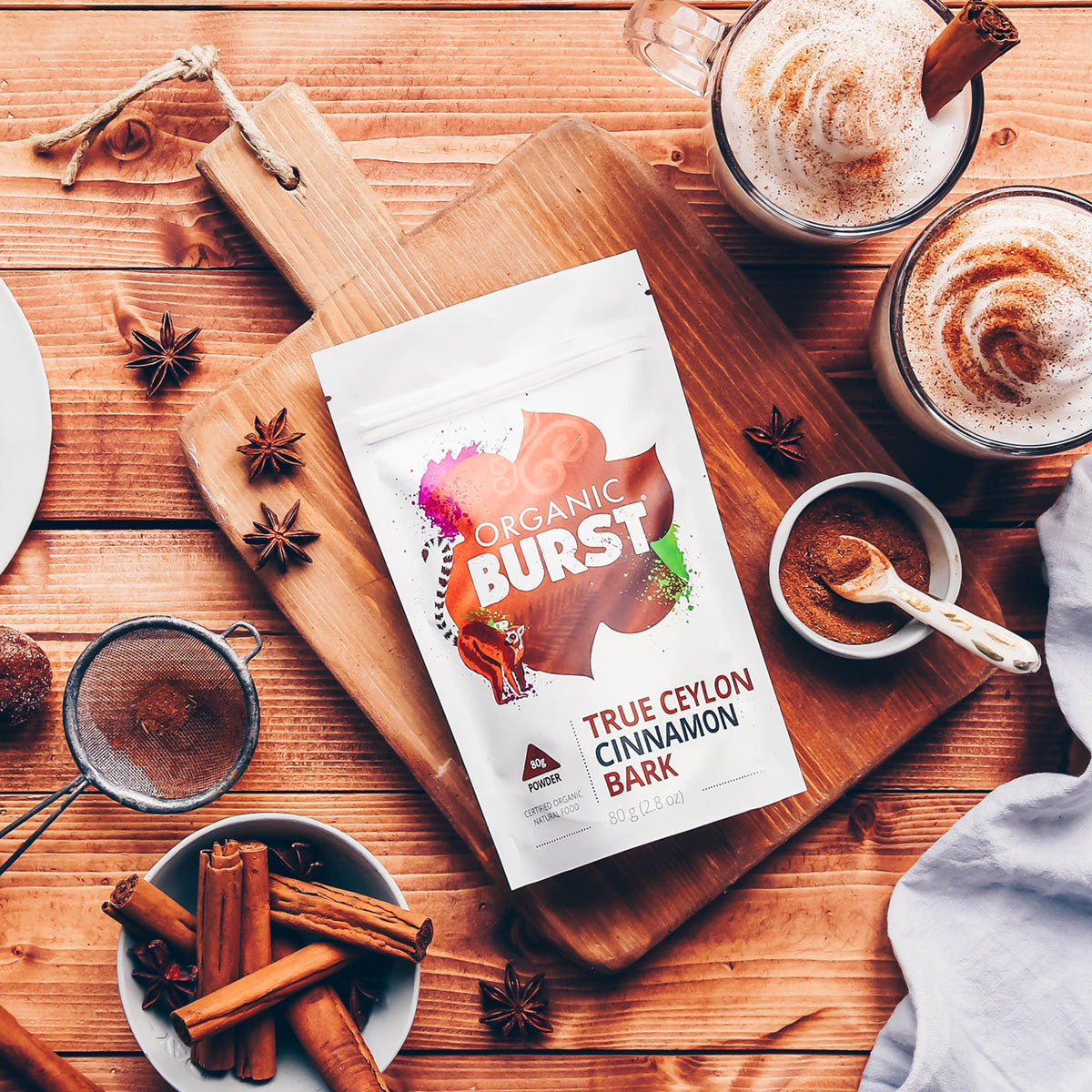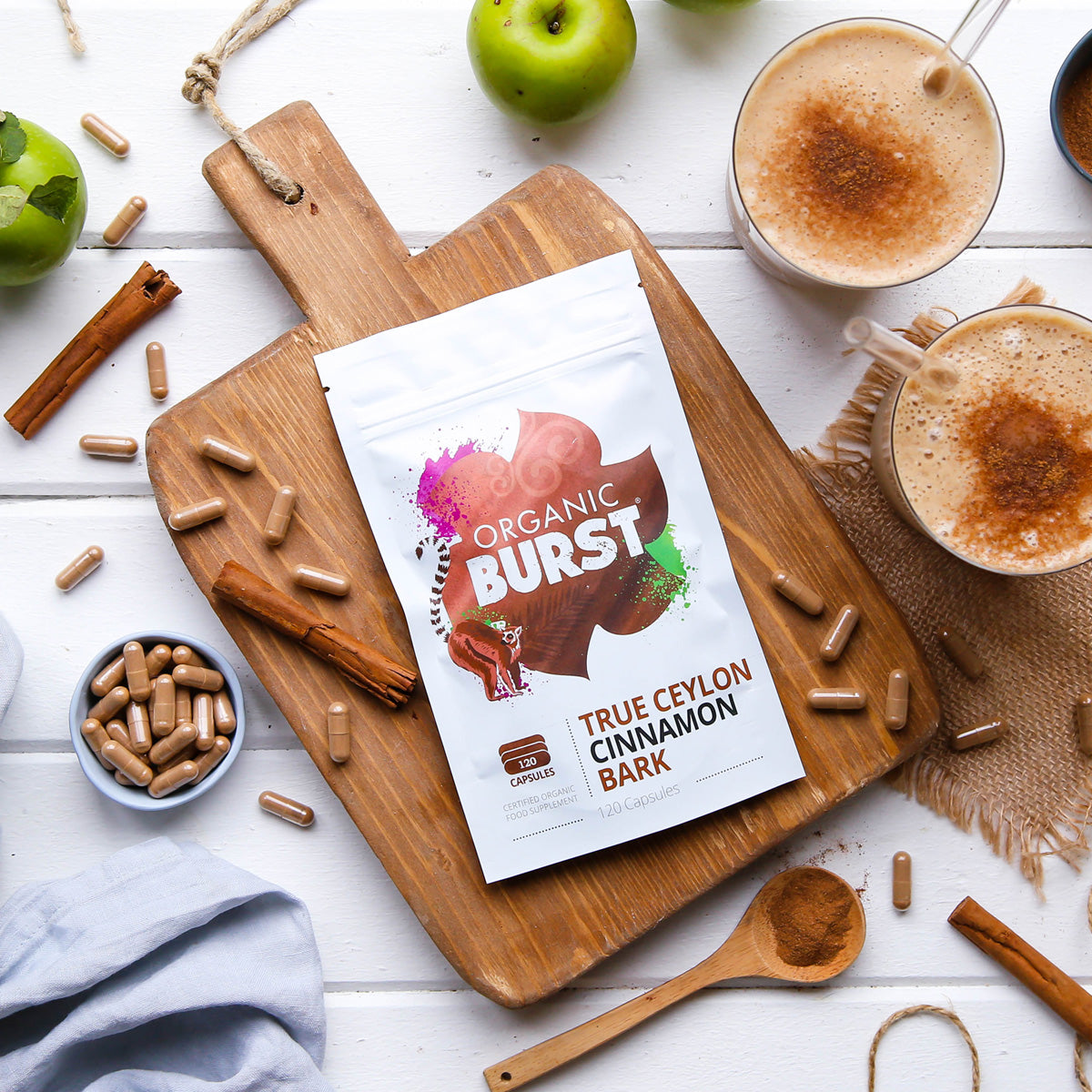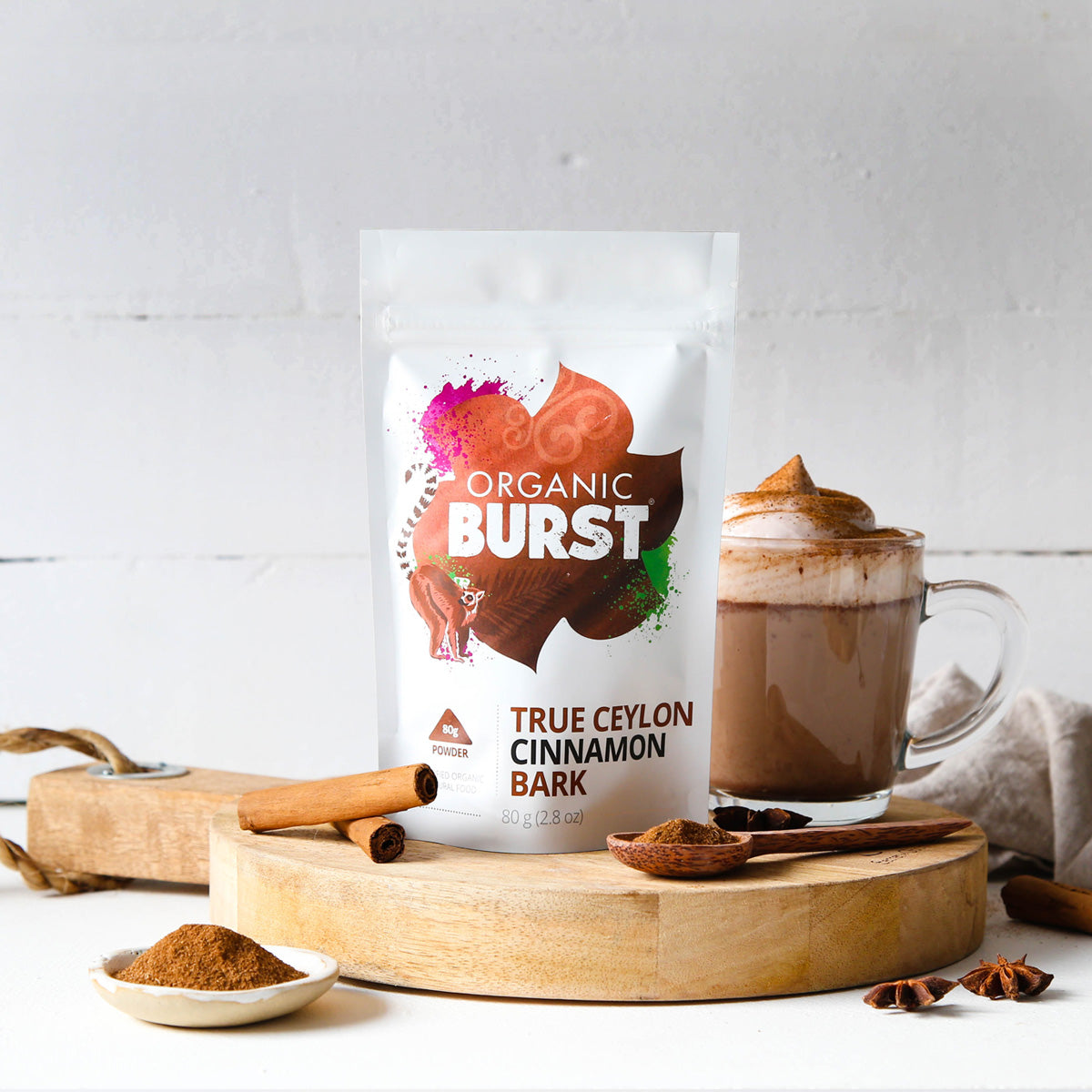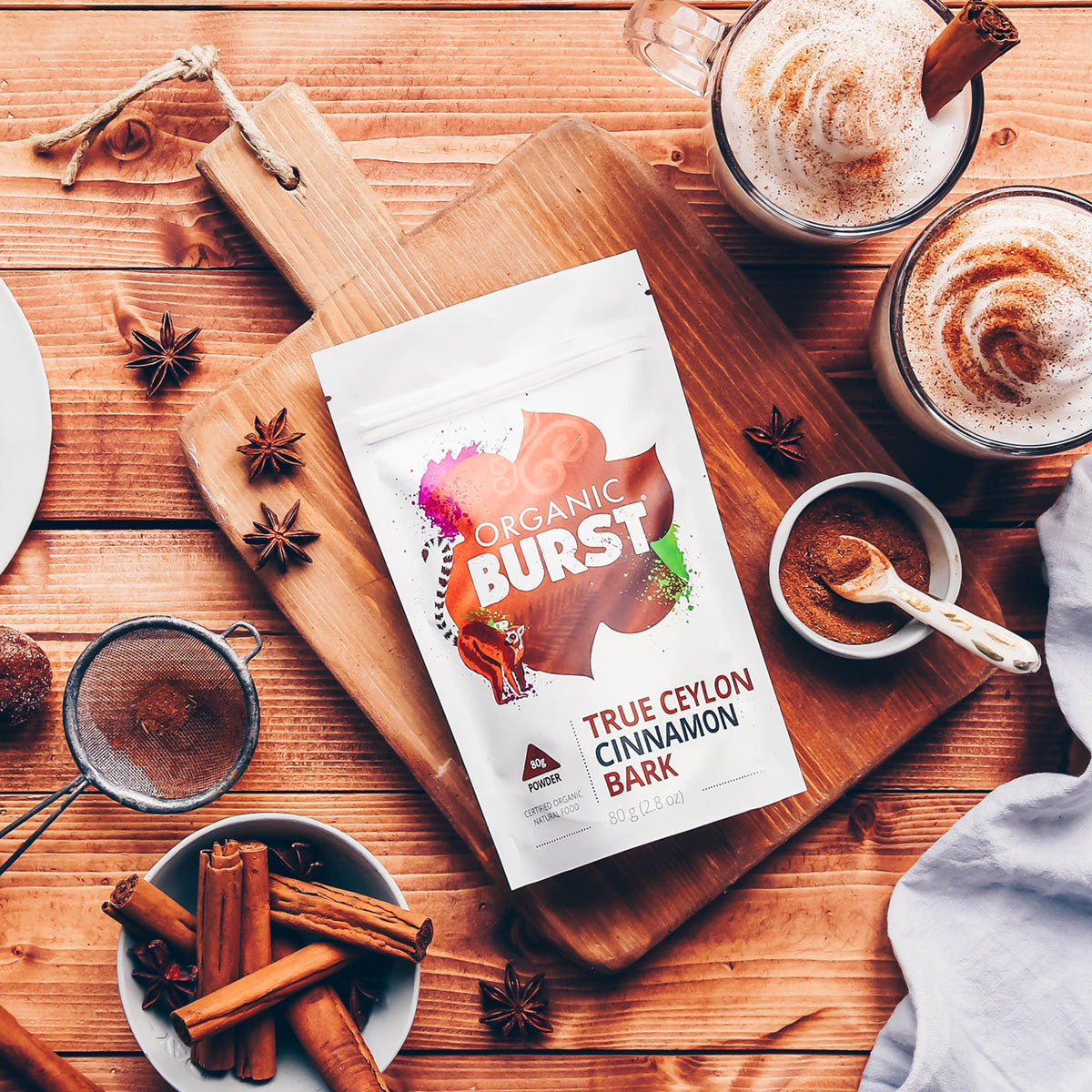 An ancient superspice for hormonal balance, easy & light periods, weight loss and preventing energy slumps
True Cinnamon from Sri Lanka, organically and sustainably farmed, supporting local farmers and preserving the ancient art of cinnamon harvesting.
You'll
Love

How It Makes You Feel
Weight loss around the waist
If your tummy has a stubborn layer, no matter how little fat you eat, it could be down to too much insulin – the hormone our bodies produce when we eat refined carbohydrates (bread, pasta, white rice) and sugars. It takes excess sugars out of the blood and stores them in our fat cells, particularly around the abdomen. By increasing your sensitivity to insulin, so less is needed after eating, Cinnamon can help reduce your waist circumference!
In a 2017 study, a group of patients took 3g (1tsp) cinnamon per day for 16 weeks and showed significant decreases in waist circumference and BMI compared with the placebo group (Source: Lipids in Health and Disease).
Hormonal Balance
Irregular or lack of periods, breakouts, problems conceiving, thinning hair, and excess facial and body hair are all signs of hormonal imbalance. Cinnamon has the power to regain balance and help you return to your normal self.
In a double-blind, randomised, controlled trial, published in the American Journal of Obstetrics and Gynecology (2014), women with PCOS taking Cinnamon found that their menstrual cycles were more frequent compared with women taking a placebo. Another gold standard study on a group of women with PCOS received 1.5g (1/2 tsp) Cinnamon per day for 6 months and their levels of Anti-Mullerian Hormone (a marker for PCOS) reduced significantly (Journal of Human Reproductive Sciences, 2017).
Say goodbye to post-meal energy slumps
Always craving a lie down after you've had coffee, something sweet or a carby lunch? Cinnamon can help to dodge a blood sugar rollercoaster and the resultant energy dip. A 2009 study in Diabetes, Obesity and Metabolism, found that cinnamon reduced sugar levels in the blood after eating. This prevents big surges of insulin - the hormone that stores away sugar and leaves you feeling depleted especially after meals and snacks containing caffeine, sugar or fast carbs.
Have 1 serving (1tsp or 4 capsules) of Organic Burst Cinnamon daily with breakfast, and an extra serving before eating any large/carby/sugary meal or snack. You can even add to your coffee to reduce the effects of caffeine on your blood sugar.
Ease Menstrual Cramps
Hours or days of period pain each month mean many of us are struggling to get on with our daily lives. But several recent studies have found that Cinnamon significantly helped with cramps during menstruation (Journal of Clinical and Diagnostic Research, 2015).
Another study published in Complementary Therapies in Clinical Practice (2018) found the effects of Cinnamon on the intensity of period cramps continued to decrease over time. These results occurred with women taking only 1/3 tsp Cinnamon. We normally recommend 1tsp or 4 capsules daily, so it can get to work quickly and effectively, but you can always adapt to what works best for you as an individual!
Reduce the discomfort of heavy periods
Very heavy and painful periods, accompanied by other abdominal pain that's worse during your period can be the result of tissue similar to the lining of the womb growing elsewhere. In Traditional Chinese Medicine, Cinnamon is the go-to plant to help conditions like this and a variety of female reproductive issues.
Cinnamon is thought to help with normal blood flow (Journal of Women's Health, 2005) and a review of data on medicinal herbs published in Human Reproduction Update, 2007 indicated that medicinal botanicals including cinnamon are supportive to the health of the uterus.
Skin regeneration
We all want any blemishes, soreness or damage to our skin to repair super quick, to look and feel our best again. So, whether you're recovering from surgery, dealing with outbreaks or frequent skin flare ups, Cinnamon may be able to help.
Scientists have found that Cinnamon works on at least 2 levels: 1) antibacterial benefits protect wounds from getting worse and 2) it stimulates enzymes that promote cell growth and repair (Source: PLoS ONE, 2015).
Take 1-2 tsp or 4-8 capsules daily, morning and evening is great as our bodies carry out repair work overnight! Try a simple DIY facemask with 1tsp Cinnamon and 1tbsp maple syrup for clearer, glowing skin.
Post-workout recovery
Love the post-workout buzz but 2 days of soreness is putting you off your next gym sesh? Cinnamon reduces soreness so you can bounce back faster!
It has been shown in studies to quench the extra free radicals we produce when burning energy and helping to calm the body's response to damage from the breakdown of muscle fibres (Source: International Journal of Preventative Medicine, 2013).
Try adding 1tsp to your post workout shake to start working straight away.
Freedom from fungal and yeast overgrowths
Bloating, gas and cramping, as well as all sorts of knock-on effects including brain fog and fatigue are often the result of an overgrowth of yeasts or fungus in your intestine. But research shows that Cinnamon is able to destroy yeast strains in the gut.
The study from 2011 showed that within 2 weeks of taking a capsule containing cinnamon oil, 72% of participants were completely free of yeast overgrowth in their stool. The remaining 28% improved significantly. So, Cinnamon was able to help restore normal health in 100% of those who took part in the study (Journal of Traditional Chinese Medicine).
And what about an oral yeast overgrowth? Well, further research shows that Cinnamon can stop it growing in the mouth too (Japanese Journal of Medical Mycology, 2010).
Stronger immune system
Catching a bug is an excellent way to ruin your week, and there are times when it seems like it's one after another (talk to anyone with kids in nursery)! Cinnamon can help thanks to its exceptionally high antimicrobial powers.
In the lab, extracts of cinnamon have been found to successfully kill off common viruses (Antiviral Research, 2007) as well as to successfully inhibit antibiotic-resistant bacteria (Letters in Applied Microbiology, 2008).
Take our recommended serving of 1tsp or 4 capsules for daily defence and boost to 2 servings a day when there's a bug going round.
Boosts memory and protects against brain ageing
Sometimes find yourself struggling to remember words, names or other details? Cinnamon has been shown to speed up your working memory so those troublesome words will be back on the tip of your tongue rather than out of your mental grasp!
A study published in Nutrition Research, 2016 found that people with prediabetes who used Cinnamon regularly as a culinary herb had a better working memory compared with those who didn't eat it. Additionally, research has associated Cinnamon with the prevention of brain degeneration (Molecular Neurobiology, 2011).
Support a healthy heart
If you've ever had any concerns about high blood pressure, it's great to know that there is a raft of scientific evidence showing that Cinnamon can help keep it at a healthy level naturally.
Researchers at the University of Toronto carried out a review study of the data on this topic and published their results in the journal Nutrition in 2013, reporting that short-term use of cinnamon could significantly lower blood pressure, especially among those with type 2 diabetes and pre-diabetes.
TRUE Cinnamon
No imitations!
Our cinnamon is the heirloom cultivar variety, known as Zeylanicum or True Cinnamon, from Sri Lanka. It is not Cassia, also known as Chinese Cinnamon, which is much cheaper and lower quality, often either passed off as cinnamon or used to adulterate True Cinnamon.
It's the highest grade of cinnamon, recognised by its thin and delicate bark that we later grind into a fine powder.
Hand crafted
All the cultivation and preparation of our beautiful cinnamon is done by the skillful hands of our cinnamon farmers.
Exceptional flavour
Our cinnamon has a sweet and smooth taste (due to its location in the hills of the Ratnapura region) rather than the more harsh-tasting coastal varieties of cinnamon. This makes it very easy to take - you'll love its warmth and hints of Christmassy spice in smoothies, lattes, porridge and teas.
Free from nasties
As with all our products, our cinnamon is never contaminated. We test to ensure it is free from heavy metals, toxins, harmful bacteria colonies, yeast and mold and pesticides.
Choose Kindness
...respecting and supporting locals and their land
Our cinnamon is grown on land privately owned by the local Sri Lankan people, not corporations to ensure fair and ethical treatment.
The land and trees are treated respectfully too, with sustainable and gentle harvesting.
Our harvesters never chop down the trees for cinnamon bark - only the young branches are used, which then regrow. New trees are planted continuously, allowing the older trees to rest. Harvesting is not done all year round, during the flowering season the trees are allowed to strengthen and flourish.
Creating Valuable Opportunities
The ancient skill and art of cinnamon preparation is sadly disappearing as younger generations in Sri Lanka seek office jobs in the cities. There to preserve and restore this industry, our local partner has created the Cinnamon Training Academy with UN funding to help provide education and training on how to cultivate cinnamon. It has now become a nationally recognised qualification in Sri Lanka.
The project is rapidly increasing local jobs by teaching cinnamon growing, harvesting, and peeling skills.
Farmers that come from surrounding regions are provided with free accommodation for them and their families on top of their earnings. There are even schools nearby for their children to attend.
How To Take?
Pure
Stir into almond, oat, coconut or other plant-based milk with a sweetener of your choice - for a Cinnamon Latte. Add to tea or smoothie. Or take as our pure capsules!
Super Charge
Sprinkle on fruit, porridge, yogurts or add to curries, soups or smoothie bowls.